College Process
It is important to have a general understanding of how admissions officers weigh your stats in the college process.
This is a chart for how most liberal arts colleges, and schools with acceptance rates under ~60% tend to weigh applicants' stats (also how merit aid is often calculated too):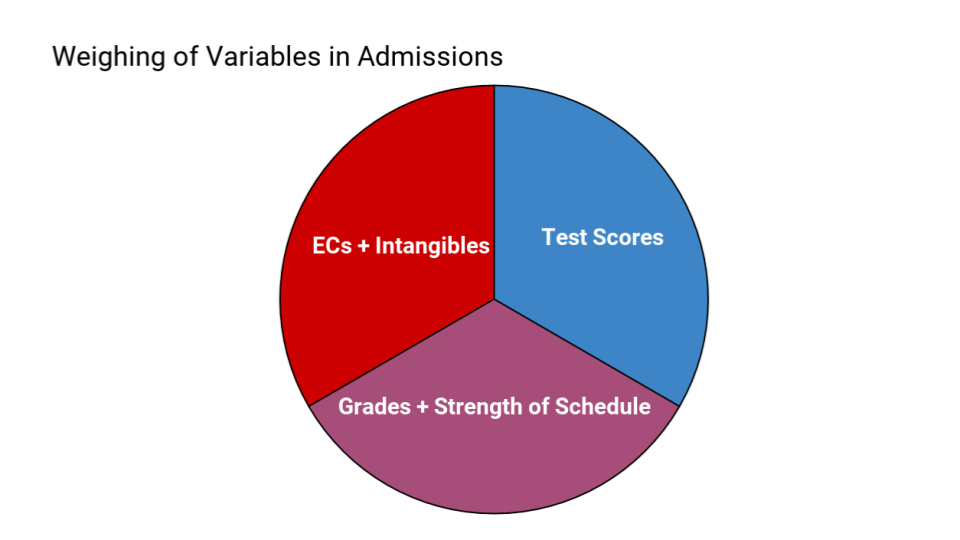 ECs stands for extracurriculars.
The reason the 'intangibles' matter so much is because the grades and test score sections are often the same or very similar between applicants.
Here is a chart for the less selective schools. This often includes large state schools that don't have the time to evaluate things besides grades and scores (the selective state schools more likely use the above chart):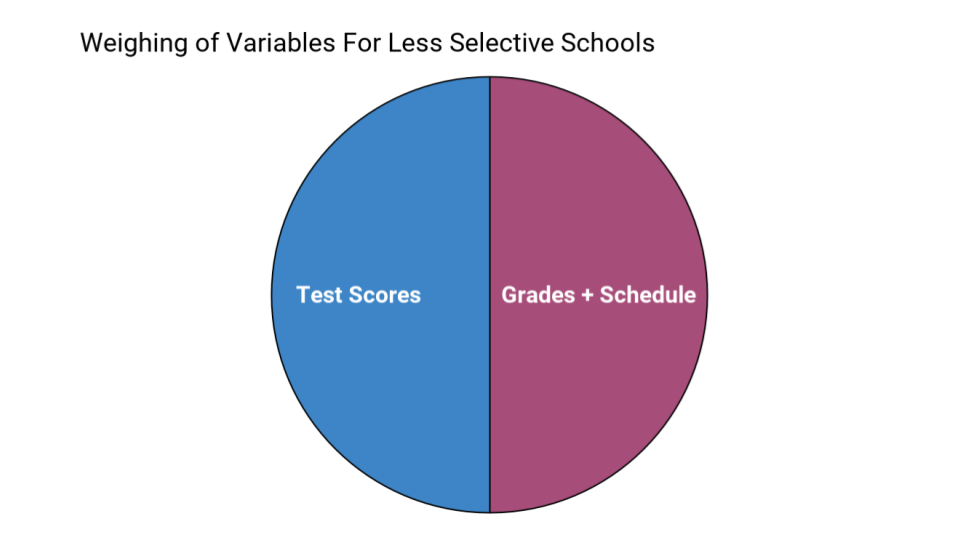 Sometimes schools will treat you like the above chart if your grades and scores are high enough (your 'safeties'); they will then evaluate the students who are more 'in the middle' like the first chart.
It is important to remember that these are generalized estimates of how the variables are weighed and there are individual differences among colleges. For example, the honors college at Penn State University, Schreyer, doesn't consider scores when evaluating applicants to the honor college. So their graph would be 50% extracurriculars and intangibles and 50% grades and strength of schedule.
The admissions process is, of course, very complicated and these charts are oversimplifications of the process. Still, they can give an idea of how the admissions work and, in general, these charts tend to be close to how the variables are evaluated.
Different Types Of Decisions



Regular Decision

:



The deadline for regular decision applications is usually between January 1st and February 1st. Students hear back sometime from mid-March through mid-April. You must reply by May 1st.




Rolling or Modified Rolling

:



The college makes their admission decision as they receive applications. It can often be better to apply as early as you can with these types of schools. You must reply by May 1st.




Early Decision

:



Early decision is binding so you can only apply to one school early decision and must attend if accepted. The only way to get out of attending your early decision school is if you can't afford to attend. Colleges usually have an EFC (Expected Family Contribution) calculator on their website; the colleges assume that you're okay with that EFC calculation. So, if your family's finances don't change, then you are still binded by early decision. You might also see Early Decision II or III for some schools. This is a way for some colleges to pick up more early applicants who decide to apply ED later or (probably more commonly) applicants who get rejected from their first early decision school.




Early Action

:



Early action programs have earlier deadlines and earlier decision dates, but they are not binding (you don't have to go if you get in). Just like with rolling admissions it is often better to get your application in earlier rather than later. Sometimes schools consider applications 'priority' applications if the student applies before a certain date for rolling or early action. You may apply to other schools. You must reply (if accepted) by May 1.




Restrictive Early Action/ Single Choice Early Action

:



Applying restricted early action means you can't apply early decision to any school, or early action at other private institutions. You don't have to commit if admitted and are free to apply regular admission anywhere. Restricted early action is used by Harvard, Princeton, Stanford and Yale among others. Make sure to check the website of the school you are applying to restricted early action as the specific rules vary among schools. You must reply by May 1.
A couple other things you might see that relate to decision types:
VIP Applications

:



These are sent by colleges as a marketing strategy. They usually offer shorter notification time, no fee or fewer recommendations. In actuality this application does not increase your chances of getting in. If the college accepts the Common App then they can't offer you anything in their 'VIP' application that you don't have with the Common App; so use the Common App. I'd advise ignoring any of these 'VIP' application options as the benefits are often null or negligible and you aren't more likely to get in using them.




Likely Letters

:



Likely Letters are primarily used by top schools for recruited athletes. They are letters sent to certain applicants a couple weeks in advance of official admission verdicts telling them that they are very likely to get in. They sometimes go to other top applicants besides recruited athletes and usually if they do send them out then who gets them depends on when they view your application. Likely Letters are nothing to be concerned about as they can be fairly random. If you do happen to get one then know that you are most likely admitted; but don't expect to get one as you'd have to get lucky in when they viewed your application to receive one.
For an explanation of the advantage of early applications check out Early Decision/ Early Action in "Demonstrated Interest".
Different Types Of Colleges



Public Colleges And Private Colleges

:



Public colleges are funded by the government and usually have lower tuition. These are your state schools, community colleges, etc.

Private colleges are funded by tuition and donations and so are usually more expensive. These include liberal arts colleges and most out of state colleges.




Four Year Colleges And Two Year Colleges

:



Four year colleges lead to a Bachelor's degree. Most colleges are four year colleges.

Two year colleges are your community colleges/ junior colleges. They award Associate's degrees. With a two year college you usually use the two years for vocational purposes, training to enter the workforce immediately, or for transfer purposes. Attending a community college for two years and transferring to a four year college for the last two years is a plan used by some to make tuition more manageable as two year colleges are usually cheaper.




Liberal Arts Colleges And Specialized Colleges

:



Liberal arts colleges offer a wide range of study and are more common. Most liberal arts colleges are private and four years.

Specialized colleges are colleges more singularly focused on an academic field. Arts colleges are specialized colleges.




Special Circumstances

:



Some colleges are single sex, religiously affiliated, and/or minority targeting colleges. These tend to be private, four year colleges.